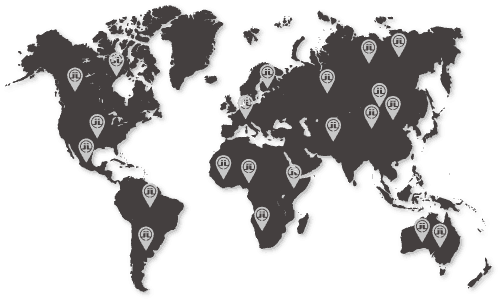 An international company
The equipment of Jean Lutz S.A. is regularly utilized for complex and large-scale projects in many countries and on all continents.
The sales department is supported by 8 Jean Lutz S.A.'s mission-dedicated personnel, who are involved all over the world for installation, training or repairs.
Panama Canal
The Panama Canal, connecting the Pacific Ocean and the Atlantic Ocean at 77 km, is one of the most challenging engineering projects ever undertaken.
It has changed the seafaring trade because it prevents ships sailing around Cape Horn at the southern tip of South America, and provides a shortcut of 13,000 km with a travel time of 5 to 9 hours. !
The construction of the new locks involved two critical operations, which consisted of treating the land to seal the canals; engineers filled natural cracks in the rock by injecting cement.
JEAN LUTZ has equipped the injection pumps with DIALOG PVD.
Chernobyl new safe confinement
A Unique project in the world, this arch comes to enclose and encircle the old damaged power station; its purpose is the containment of radioactive materials.
Composed of a metal frame of 2500 tons, the arch reaches colossal dimensions: 108 m high, 162 m long for a range of 257 m that would cover the Stade de France.
Once mounted, the arch was slid on rails by jacks until it reached its final position.
The company Jean Lutz was selected to provide the instrumentation to control the placement of the piles that supported the rails.
Tunnel of the Port of Miami
The Port of Miami is the largest port in the world for the transportation of cruise passengers and one of the most important for the transportation of goods.
The creation of a 1.2 km (3900ft) double tunnel between Dodge Island and Watson Island has been designed. The tunnels were dug to their maximum at 36 m (120 ft) below sea level for a diameter of 12.5 m (41 ft).
The drilling machines have loaded the instrumentation Jean Lutz (LT3 and TARALOG Turbojet) to record the parameters during the execution of the injection works.